KOKI Low Melting Point Solder Paste
Low Melting Point Lead Free Solder Paste T4AB58-M742
Solder alloy composition is Sn0.4Ag57.6Bi

Koki no-clean LEAD FREE solder paste

T4AB58-M742 Sn0.4A57.6Bi
Energy-saving
By reducing the required reflow profile temperature, electricity consumption can be reduced by approximately 40% compared to SAC305.
Reduction of electricity consumption results in reduction in CO2 emissions, achieving both energy saving and environmental care.
■ Electricity consumption / hr.during reflow process(kw)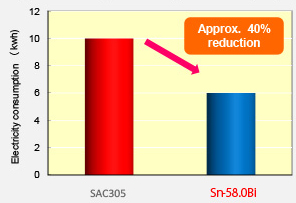 Reduces thermal damage to components and substrate
Energy saving is not the only benefit of a low temperature reflow profile.
A low temperature profile reduces thermal damage to components during double-sided reflow and allows for use of heat-sensitive paper phenolic substrates.
■ Joint conditions after reflow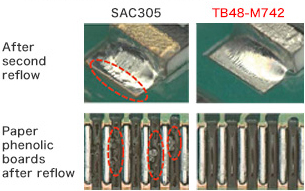 High insulation reliability
The flux solvent volatilizes even in low temperature reflow, eliminating reduction in insulation resistance arising from inadequate volatilization.
TB48-M742・T4AB48/58-M742 produces flux residue with high insulation reliability.
■ Voltage applied SIR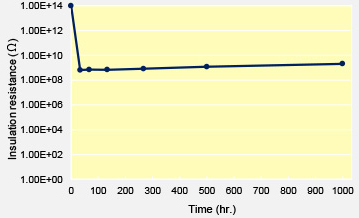 KOKI Low Melting Point Solder Paste
Solder alloy composition is Sn0.4Ag57.6Bi
PERFECT MELTING and wetting at super fine pitch (>0.4mm pitch) and micro components (>0.3mm dia CSP, 0603 chip).
Specially formulated flux chemistry ensures extremely LOW VOIDING with CSPs and broad contact area components.
Conforms to Halogen-free standard (Cl+Br = Less than 1500ppm) BS EN14582.
Low melting point (138ºC )
Application
Printing – Stencil
Product
T4AB58-M742
Alloy
Composition (%)
Sn0.4A57.6Bi
Melting point (°C)
138
Shape
Spherical
Particle size (μm)
20 – 38
Flux
Halide content (%)
0
Flux type
ROL0
Product
Flux content (%)
10.0±1.0
Viscosity*1 (Pa.S)
190±30
Copper plate corrosion
Passed
Tack time
> 16 hours
Shelf life (below 10°C)
6 months