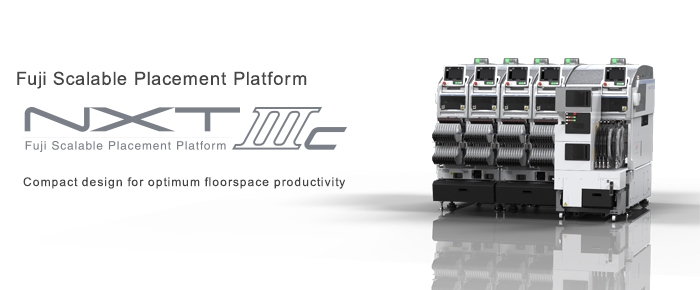 SHORTENING THE LINE LENGTH

CONSISTENT SOFTWARE

SIMPLIFIED OPERATION

REDUCTION IN MAINTENANCE EXPENSE
FUJI NXT III | Fuji Scalable Placement Platform
With the NXT III/IIIc, Fuji developed the 3rd generation of the highly successful NXT series, with more than 66,000 installed modules worldwide.
For multi functional and high-performance electronics, such as in mobile phones and automotive applications, both the number of components to be assembled, as well as the possible functionalities further increased. Accordingly, the assembly density of tiny components increases sharply. On the other hand, requirements such as the assembly of shielding plates, components with a very small grid connection and components of package-on-package applications show the requirements for the functionality of assembly machines are becoming more and more demanding year after year.
The NXT III/IIIc has been designed as a scalable placement platform that delivers both high productivity and quality, which also meets the needs of future generations of components (such as 03015).
In addition, it ensures high compatibility with its predecessor NXT II. Many existing machine elements, such as placement heads, tray and feeder units, can be used even on the NXT III/IIIc.
FUJI NXT III
Perfect for high-volume production and high product mix

new servo control for even faster and more accurate motor control

New, more stable design of the X / Y axes and the machine frame for greater speed and higher precision

further improvement in the throughput of the entire component spectrum of 03015, medium and large components by using the new "Flying Vision System"

Support the next generation component (03015) by the new, super-fast placement H24S (24 Nozzles, 35,000 CPH) and even faster feeders W08f

Intuitive and easy to use machine with Touch Panel Interface

Scalable depending on the required feeder positions and throughput

2 types of modules: M3 (width 325mm, 20 pitches Feeder) or M6 (width 650 mm, 45 pitches Feeder)

Exchange of Heads in minutes without tools

Replacement of feeder during production without stopping the machine is possible

Compatible with the AIMEX-series
By using the appropriate placement heads, each NXT III/IIIc module can be customized according to your production conditions. The NXT III/IIIc thus covers your entire component spectrum.
The platform allows not only assembly but also the integration of additional functions:
Glue dispensation

3D Solder Paste Inspection

Component Inspectio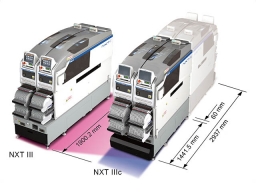 The best floorspace productivity in the industry
One NXT IIIc module occupies just 0.46 m2 of floorspace,making it an incredibly compact machine. Retaining all the advanced features of the FUJI NXT III but occupying 34% less area, the NXT IIIc offers the best floorspace productivity in the industry* (81,300 cph/m2). *According to research by Fuji as of August 2015.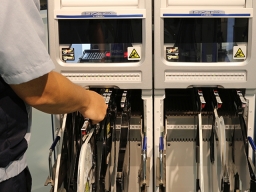 Part supply without stopping the machine
As with the FUJI NXT III, feeders on the NXT IIIc can be added and removed during production, meaning that you can resupply parts without interrupting production. Tray parts can also be resupplied during production. As a further option to ensure smooth and uninterrupted part supply, splicing is also supported.