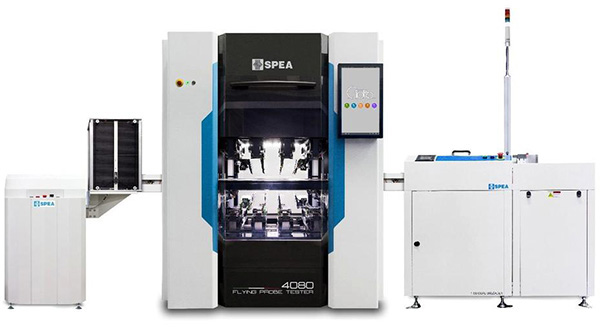 4080 Flying Probe Tester | The Best Throughput and Accuracy
The tester sets a new benchmark for flying probe board testing, offering the highest probing and electrical measurement accuracy and speed on both sides of the device under test.
The 4080 is an 8-probe multi-functional, high-production Flying Probe Tester designed for testing electronic boards and devices.
Safe Probing with Ultra-Soft Touch Technology.
Configurable Multi-Tool Flying Heads.
Ultra-Fast Double-sided Probing.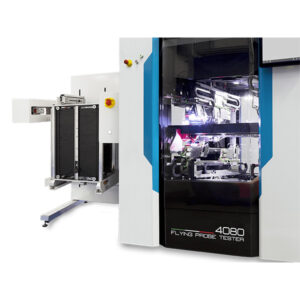 The 4080 ensures 100% net accessibility and zero-failure escape thanks to SPEA's Multi-Domain Test Technology, which provides full test coverage for any test application.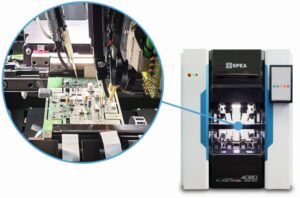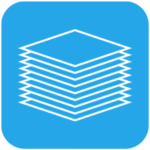 The 4080 offers high productivity for manufacturers who need to deal with high volume productions of electronic boards and devices.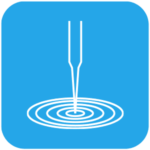 Probing of micro-pads (30μm) and SMT components (008004 and 01005), at maximum probing speed and without leaving marks on the pads.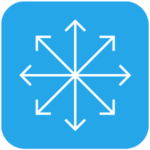 Not only ICT tests but also short circuits test, optical tests, flashing, digital tests, thermal test, etc. to offer the best testing flexibility for your products.
High-precision Measurement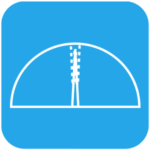 The measuring and forcing instrumentation on each flying head ensures signal integrity and high-accuracy measurement.
The Best Throughput and Accuracy
The 4080 is conceived for the most demanding electronics manufacturers to cut the cost-of-test. It provides the highest throughput for flying probe testing as it can test 800,000+ boards per year. The double-sided high-speed moving axes, micro-probing accuracy, multidisciplinary test capability, and flexible scalability allow electronics manufacturers to ensure zero-failure escape in a wide range of applications at the highest throughput.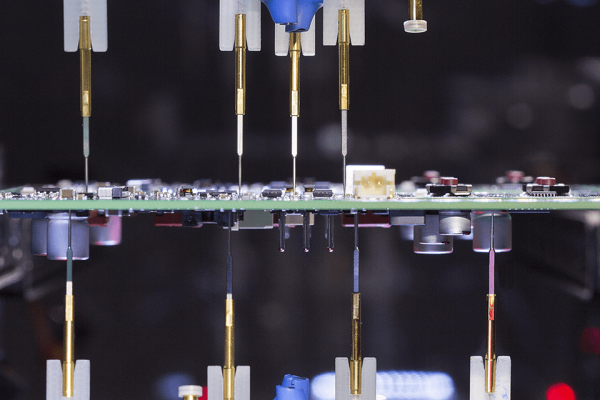 Ultra-Fast Double-sided Probing
The 4080 Flying Probe Tester features 8x flying heads (4x top and 4x bottom) that ensure effective probing of top and bottom faces of electronic boards and devices. The flying heads feature ultra-high-speed linear motors that provide the highest probing speed (up to 180 touches/s), superior mechanical stability, and no deformation during use to ensure maximum probe accuracy. Furthermore, the mechanical and constructive simplicity means less periodic maintenance.
Micro-Probing Accuracy for the Smallest Targets
Ultra-accurate positioning meters on each XYZ axis of the 4080 ensure the effective and consistent probing of the smallest targets, as little as 30µm test pads and 008004 SMD components. The test system provides the highest probing accuracy (±10μm), and repeatability (±5μm) like no other flying probe system can do.
Safe Probing with Ultra-Soft Touch Technology
With the 4080 Flying Probe Tester, test pads and component solder joints are safe from marks and scratches caused by the flying probes.
SPEA's unique Soft-Touch and Ultra-Soft Touch Technologies use near-zero energy probing to ensure safe and mark-free touch on the most delicate surfaces and substrates, such as wafers, flex circuits, and micro-SMT devices.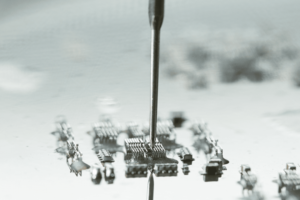 Configurable Multi-Tool Flying Heads
The 8 flying heads of the 4080 can mount a comprehensive range of testing tools and probes used for electrical testing. Up to 28 Flying Tools such as spring probes, hi-resolution vision units, light meters, ElectroScan, thermal cameras, and more provide extended functionality and test coverage for a wide range of test applications.
Automatic Test of Large and Complex Electronic Boards
The 4080L Flying probe Tester model, designed with a wider test area, ensures accurate probing of any hard-to-reach test points and electronic boards with multiple height levels, even if they are big-sized (1200x668mm), heavy (20kg), and mounting tall components (150mm) on both sides of the board.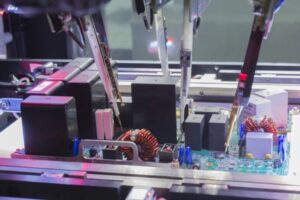 A World of Test Utilities
4080 users take the advantage of working with a friendly software environment, similar to what smartphones made us used to. Every test utility is dedicated to a defined function, while its update is independent and does not affect overall software integrity. Leonardo 4 operating system incorporates all the functionalities and effectiveness of previous Leonardo versions, bringing them a step ahead.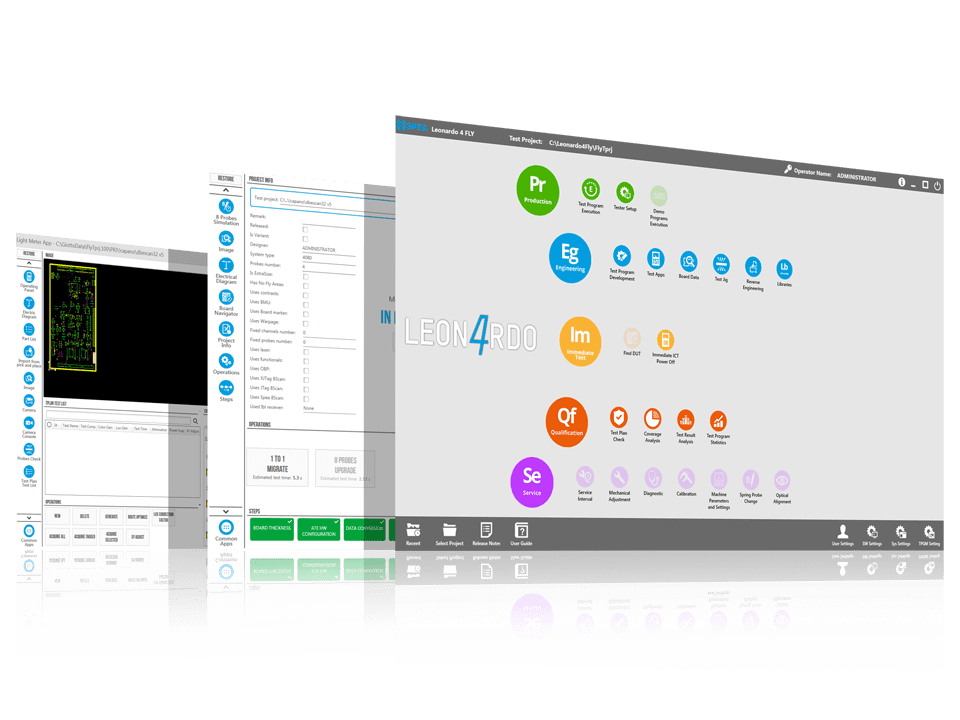 SPEA has designed and manufactured a new series of Automatic PCB handling Equipment, able to perform autonomous loading and unloading operations. SPEA Board Handling Equipment is available in modular configurations, which allow for quick changes on field, and stand out for their reduced footprint, as they take up just one third of the floor space typically needed by traditional PCB handling equipment.
The Automatic Board Handling Equipment is fully controlled by the SPEA Testers' Operating System. The interconnectivity with both tester and LAN, through Ethernet TCP/IP interface, allows you to achieve the benefits of Industry 4.0: working and sensor information can be transmitted to Big Data systems for predictive maintenance.
The Automatic Board Handling is engineered and manufactured with Long-Life, maintenance-free components to ensure reliability over time. The built-in sensors and software control ensure all the operations are performed in a fully controlled mode.