Automatic Board Tester | SPEA 3030C ICT Test System
Modular and configurable with a complete range of instrumentation and receivers, 3030C provides 2x throughput compared with standard test solutions, thanks to its 2-Core Real Parallel Test.
3030C delivers multiple test capabilities, guaranteeing 100% coverage in a unique, integrated, high-throughput, cost-effective system.
3030C is the bed-of-nails tester designed to deliver a cost-effective test solution in a very small footprint.
Small footprint, high test coverage.
True Parallel Test
3030C can be equipped with up to 2 independent Cores – each one with independent CPU, local memory and instrumentation – able to test in parallel up to 2 boards/panels of boards. Compared to standard ICT testers, 3030C throughput is up to 200% higher, thus minimizing the cost of board testing.
PC-independent Architecture
With SPEA 3030 PC-independent Architecture the test program is resident in the tester CPU and the test speed is determined by the system CPU. Antivirus and other applications running on the PC do not affect the test speed. Moreover, you can change/update the PC at any moment, without having to re-debug the test program.
Forget field return
3030C has been designed to help electronics manufacturers boost their product quality. By executing various test techniques with its high-performance instrumentation and stimuli, 3030C can reliably find faults undetectable by functional testers and standard ICT tester.
Saving cost of test
With True Parallel Multi-Core Architecture the cost of test is drastically reduced. Just one system, one operator, one handling, one fixture and one PC to test 2 PCBs at the same time.
Faster fixture's pogo pins diagnostic with the Pin Finder App
The app displays the pogo pins' information in real-time. It also features a text-to-speech function to ease the diagnostic operations and avoid looking at the smartphone screen at each measurement.
By probing each pogo pin and viewing the measured data via the Pin Finder App, you can quickly verify each channel by measuring its resistive value and associated test point.
The Pin Finder App is a mobile application that makes pogo pins and tester's channel integrity verification faster and easier.
The app allows you to carry out the pogo pins' diagnostics without having to remove the fixture from the tester.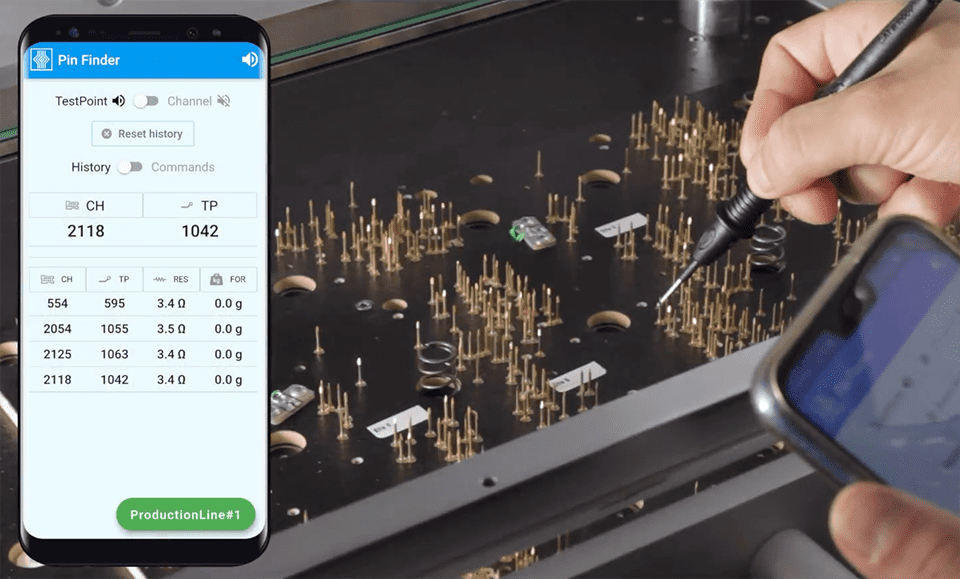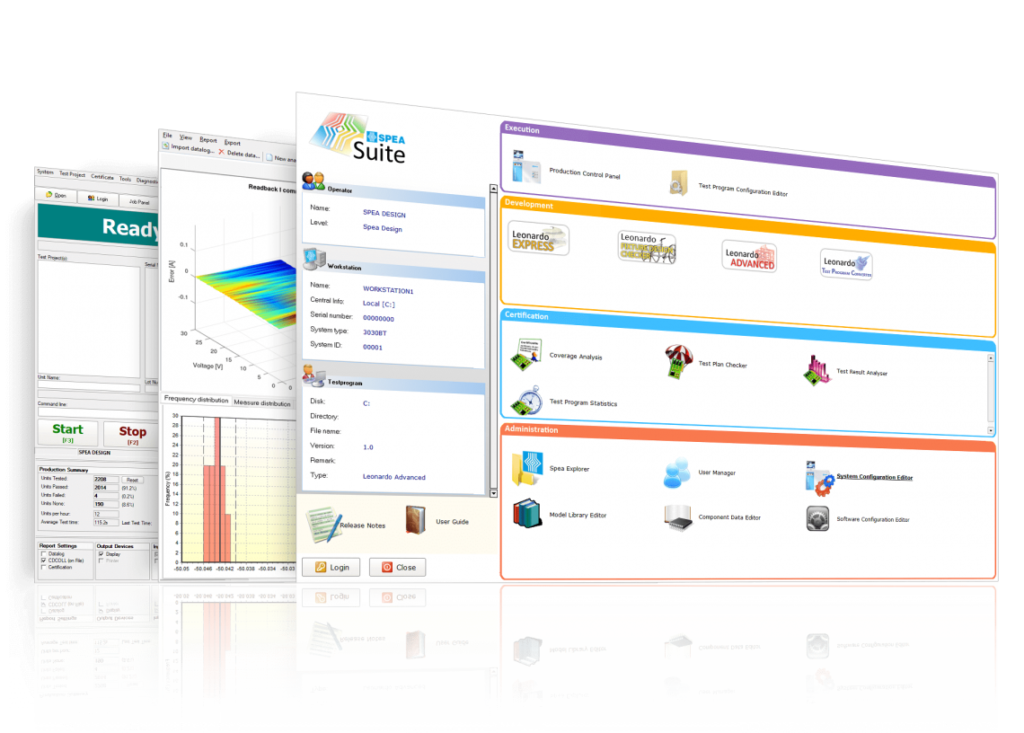 Easy. Fast. Self-programming
Minimized application development costs: automatic generation of the file for fixture drilling and wiring.
Automatic test program generation in minutes.
Real time production monitoring and analysis.
Automatic CAD data recognition & import.
User-friendly intuitive graphical interface.
Automatic test report generation.
Automatic debug & tuning.