KOKI Dispensing type adhesive with no infringement of UN regulations
JU-110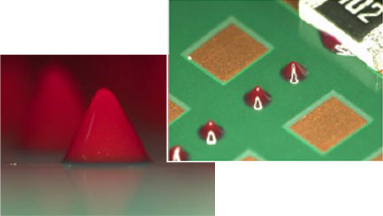 Improved application precision No Un-regulated hazardous substances
Tall deposits ensure contact with components
JU-110 has excellent shape retention, enabling continual application of tall print deposits. Therefore, contact with surface-mounted components of any shape is achieved, improving reliability of the wave soldering process.
■ Continual dispensing(φ0.3mm)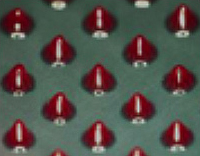 Resistant to heat slump
JU-110 is strong against heat slump, maintaining the height of deposits throughout the process. The height of deposits and contact with surface-mounted components are maintained even during heating, securely immobilizing the components.
■ Heat slump test (130℃ 90sec)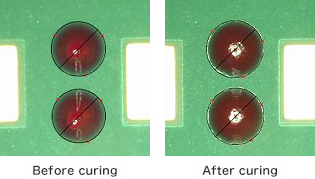 High precision continual printing
In addition to its resistance to heat slump, the viscosity of JU-110 is stable at room temperature. Consistent viscosity reduces print clogging and ensures highly precise continual printing.
■ Continual dispensability test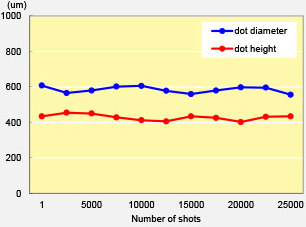 Product Performance Table
Product Name
JU-110
Product Category
Heat curing type SMT adhesive
Composition
Epoxy
State / Color
Paste / Red
Viscosity(Pa.s)
55
Transition Temperature(℃)
95
Curing condition
130℃ × >60sec.
Shelf life (0-10℃)
Below 10ºC, 6 months