Ultraflex 3600 Automation System
Full-Automated Storage System | Essegi UltraFlex 3600
Time saving thanks to simultaneous insertion and extraction of up to 54 reels at a time.
External shelf warehouses can be integrated into material management and planning.
Optimum use of storage space through dynamic warehouse management.
Space optimization by measuring height of cases before insertion.
Cases with flexible height adjustment from 8 mm to 88 mm.
High storage capacity/m² – up to 3,644 7″ reels each 8 mm.
Automated storage system – extraction in stacks.
For 7″ and 15″ reels, trays and other material.
Easy operation using touch screen.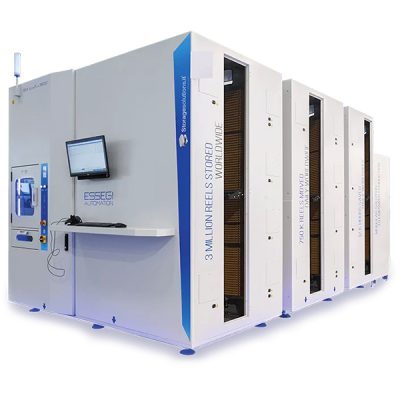 Ultraflex 3600 Automation System
An intelligent and efficient storage management is turning into the key success factor regarding SMT manufacturing. Hereby ensuring an ideal output while simultaneously securing the increasing flexibility of the product program.
Ultra-flexibility guaranteed
The configuration of the heights of the trays is practically infinite. Each tray has a range that goes from a minimum of 8mm to a maximum of 88mm in height. The warehouse is able to dynamically manage the subdivision of internal spaces just like with a hard disk and to allow the storage of trays of different heights quickly and automatically. With Ultraflex series there is no need to pre-configure the height of the internal positions to house the components.
Ultraflex 3600 Automation System
Thanks to the Patented Multiple Exit door, the preparation time of the kits for production and the time taken by the operator to store the material will no longer be a problem.
Thanks to the QUICK EXIT door, it will be very simple to extract an urgent reel even during the loading and unloading phase of the warehouse. The operator can temporarily interrupt the loading / unloading operation in progress, ask the system to provide priority with the component that is urgently needed, and extract it from the quick exit.