What can I use it for ? 
Inspection of hard to reach places
Periodic inspection tasks
Fault documentation
Serial number identification
Training aid
Low vision magnifier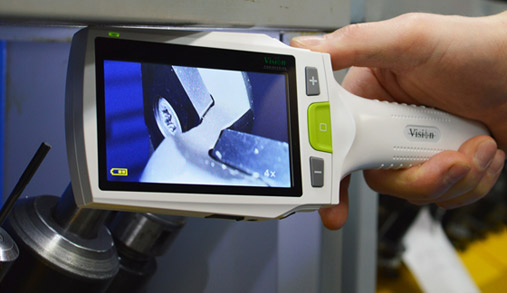 Overview
Camβ (Cam Beta) digital inspection magnifier is ideal for roaming inspectors, documenting faults, or for inspecting immobile subjects. With a high resolution colour display, easy button operation, simple image capture and download, you can inspect & capture quickly and simply.
It can be used in hard to reach areas, such as high up inside large machines as well as remote locations to access wild flowers and insects. This portable electronic magnifier can also be easily stored and transported for access when needed. Making it extremely suitable for production environments.
Highlights
Highly flexible & portable
Fast and accurate image capture
4.3" colour display with dimension grid
Virtual caliper display with movable filar lines
Live view via mini-HDMI output
Can be used for all sorts of roamng inspection tasks
Controllable LED Illumination optimised for magnified imaging
Store up to 20,000 images
Why Camβ is better than your smartphone
Unlike a digital camera, Camβ's 4 LED illumination is optimised for magnified imaging, so you can see the subject clearly and evenly illuminated.
To facilitate viewing objects where reflections may be an issue, the lighting can be cycled through four settings. The brightness of the LED's can also be adjusted to optimise viewing.
Advantages:
Optics optimised for close working
Illumination configured for close working
Image security (no connection to Wifi)
Live HDMI TV-out
Secure grip for left and right hand use
Technical
Display
4.3″
View modes

Full colour
Black & white
Inverted black & white
Grey scale

Magnification
4x, 8x, 16x and 20x
Illumination

4 x LED, optimised for magnified imaging.
4 Level settings: 100%, 75%, 50%, 25%

Dimension grids

Yes, fixed 1mm2 grid lines
Simple X,Y on-screen dimensioning
Virtual caliper

Measurement
Yes (inch/mm)
Image capture resolution
1280 x 720, JPEG
Video out
Mini-HDMI TV-out
Connections

Micro USB connection for image download and charging
Mini-HDMI for monitor

Battery
Lithium ion, 6 hour continuous operation time
Dimensions
283mm (l) x 88mm (h) x 22mm (d)
Weight
205g
Number of stored images
20,000
Internal memory
4 GB
Kit contents
Camβ, soft case, USB cable, mini-HDMI-HDMI cable, TV out cable, Lanyard, cleaning cloth, user guide
Industrial and production applications
Camβ portal digital magnifier is great for documenting faults and inspection of immobile subjects. It is very useful when inspectiing electronics, such as cable connections within broadband cabinets.Camβ is well suited in production environments. It is handy for inspection subjects in dark or hard to reach areas. Also ideal in secure environments where company's policy disallows the use of mobile phones. Simple operation allows for quick parts documentation and /or training and quality assurance.