WHA 3000P Digital 700 W Hot Air Station with Built-in Turbine 
The WHA 3000P hot air station is suitable for difficult repairs on circuit boards with fine pitch components with a large number of leads. A well thought-out device concept combines maximum process safety with ease of use and technically mature detail solutions like the automatic operating mode which facilitates the work and rises productivity and quality of your rework jobs. A comprehensive range of accessories adds to the possible uses of this repair station. 
| | |
| --- | --- |
| Dimensions W x D x H (mm) | 240 x 270 x 170 mm (9,44 x 10,63 x 6,69 inch) |
| Voltage | 230 V |
| Heating output | 600 W |
| Vacuum | -0,6 bar |
| Temperature range | 50°C – 550°C |
| Air flow rate | 5 – 50 l/min |
LCD
Bright clear LCD for easy reading of
the parameter settings.
Manual operating mode
For work with manual parameter
setting, e.g. for different rework
tasks.
Automatic operating mode
Program with 3-step temperature
time profile. Free programmable
parameter settings of hot air
temperature, air flow and timer which
can be used in connection with the
optional heating plate WHP 3000.
Efficient operation with highest
process repeatability. Up to 10
parameter sets can be programmed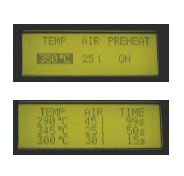 Control
Easy to use buttons for precise parameter setting of temperature, air flow and timer. LEDs for indicating start/stop or vacuum function.
Built-in Turbine
The powerful and maintenancefree turbine provides an air flow of max. 50 l/min. The turbine is silent-running and continuously adjustable.
Stop+Go
Support AKT 30 for tild safe holding of the hot air pencil. Once the HAP 3 has been placed in the support the unit switches into Stand-By modus (nozzle pre-heating active) with reduced temperature and air
flow rate.
Connection
The following connections are on the back of the housing:
• RS 232 interface e.g. to connect the WHP 3000 heating plate
• Connection for manual control or foot switch (both optional)
ESD safe
Housing and iron are ESD safe. Charge carrier free air flow.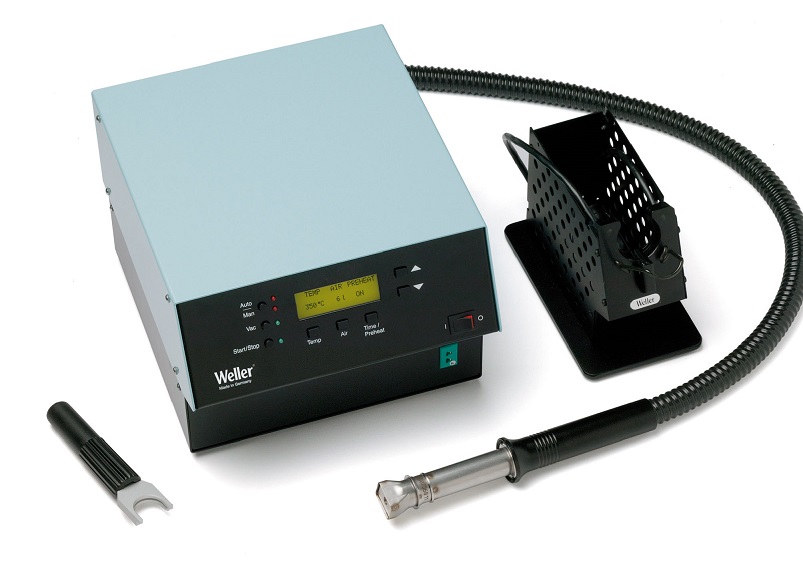 Heating Plate WHP 3000
The WHP 3000 enables electronic assemblies to be pre-heated In numerous ways. The heating plates heats up the component from below equal to the correct working temperature needed to ensure reliable joints. This reduces the required heat from the hot air pencil and the risk of thermical damage. The whole repair process is more reliable and faster. The heating plate is equipped with 3 infrared high temperature lamps. They provide a fast and precise heating up. The digital regulation electronics ensure precise temperature behavior and support various special functions such as "AUTO OFF" or "STAND_BY" temperature. Read and set temperature are indicated digitally. Two different size heating zones are available. Using an optional external sensor, the temperature can be regulated to defined measuring points. If an external sensor is connected the display shows the read temperature of the sensor. An integrated RS 232 interface enables the WHP 3000 to be controlled externally from the WHA 3000P or WHA 30000V hot air station.
In this case the WHP 3000 heating plate is part of the 3-step temperature-time profile. We recommend to use the preheating plate together with the PCB holder WBH 3000S for secure positioning of the
circuit board. The WHP 3000 is easy to slide under the PCB holder from the front.
| | |
| --- | --- |
| Dimensions (W x D x H): | 254 x 395 x 70 |
| Heated zone: | max. 120 x 190 mm |
| Mains voltage: | 230V |
| Protection class: | 1 |
| Power: | small heating zone 200 W   big heating zone 600 W |
| Temperature range: | 50°C – 400°C |