AIMEX III/IIIc – Flexible high-mix production with Fuji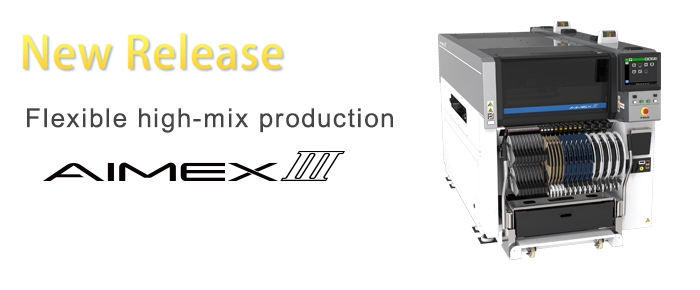 The All-In-one Assembly machine AIMEX III/IIIc was further developed and takes over the popular AIMEX concept with additional flexibility and expandability.
We owe the considerable progress of this generation in electronics and communication to printed electronic circuits. These circuit boards are assembled by surface mounting, with the component placement machines as the centerpiece of the production line. The growing demand of companies for a flexible production with a variable mix of high placement performance and a versatile product mix with small batch sizes is fulfilled by the AIMEX III/IIIc.
Functions/properties
Feeding of large amounts of different components: In order to be able to process the large amounts of necessary component types, 130 slots are available for different belted components. The wide-ranging supply of components, in the belt, on tray or in bar is made possible by the simple exchange of the feed units.

Selectable placement portal configuration: (Up to 4 robots per machine) Both the head types as well as the number of X/Y axes can be customized to accommodate changes in production type and quantity.

Efficient support for the introduction of new products (NPI): Auto Shape Generator (.. automatic creation of part shapes) on the machine is becoming more and more the standard in order to shorten the time to introduce a new product in series production. When using the NPI support, if an error occurs during the image processing process, production is quickly resumed because the necessary changes to image processing are automatically generated from the defect image. This reduces the effort and cost for new products. * NPI Tools: New Product Introduction Tools

Independent dual track production: This machine enables independent production of various printed circuit boards at the same time on a dual-track. With this setup, it is possible to perform a change on one track while continuing to produce on the other track. This means that a production line can be used like two lines.

Support for a wide range of PCB sizes: The AIMEX III/IIIc supports small PCBs from 48 x 48 mm up to very large PCBs from 774×710 mm. This will allow efficient production of a wide range of PCB sizes; for example small PCBs in mobile phones and digital cameras or larger PCBs for network technology and notebooks, as well as extremely long for LED and LED TV panels.

Multi Feeder Unit (MFU): With the multi-feeder, entire setup groups can be exchanged at once. If the optional offline Power Supply Unit is used, all roles can be disarmed at the feeders on the MFU outside the machine by pushing a button. This makes the external change even faster and effectively.

Tray feed units can be used on both sides of the machine: the tray units can be mounted on both, the front and rear of the machine. A non-stationary feeding of tray components is made possible by the independent use of the magazine configuration at Fuji. Thereby, the downtime of the machine is minimized due to idle Tray components.

Support of high components: Components of 38.1 mm (1.5 inches) height can be equipped with the OF Head of the AIMEX III/IIIc. This allows the machine to handle very high components, such as large Relays and LAN connectors, as they are commonly found in the automotive industry or on the motherboard, simply by swapping the feeder unit.

Improved throughput: When using the V-Advance function (pushed forward feeder pallet) by V12D Head, a shorter distance between the pickup and placement position is achieved, and thus an improved throughput.
Supports production for large panels and simultaneous production of two models
The AIMEX III can support large panels up to 774 (L) x 710 (W) mm in size.
Simultaneous production of two different products is possible using a double conveyor configuration machine. The AIMEX III also enables various production methods and supports a wide range of panel sizes.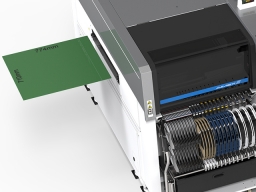 Supporting 0402 (01005″) to 74 x 74 mm by one head
A DX head exchanges the dedicated tool in one action depending on the part size, from small chips to large odd-form parts. Also, using wide range nozzles together provides further efficient placement.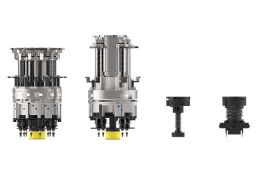 Minimizing the changeover count
Changeover time can be reduced by performing MFU batch changeover and by the machine having up to 130 slots for feeders which makes it possible to load all of the required parts.
Ramping up production smoothly
Automatic data creation and on-machine editing using a large touchscreen panel work to support ramping up new production and quick response to sudden changes to programs.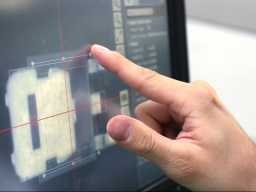 PCB SIZE (LXW)
Double conveyor type: 48 x 48 mm to 759 x 318 mm (dual transport)
Double conveyor type: 48 x 48 mm to 759 x 586 mm (single transport)
Single conveyor type: 48 x 48 mm to 759 x 686 mm
*Transport of panels up to 910 mm is possible but the limit of the placing range is 759 mm.
FEEDER CAPACITY
Up to 180 (8 mm tape)
PCB LOAD TIME
Double conveyor: O sec for double transport, 4.2 sec for single transport; Single conveyor: 4.2 sec
PLACING ACCURACY
(FIDUCIAL MARK BASED REFERENCING)
V12/H12HS: +/-0.038 (+/-0.050) mm (3σ) cpk≥1.00*
H08M: +/-0.040 mm (3σ) cpk≥1.00
OF: +/-0.050 mm (3σ) cpk≥1.00
H02/H01: +/-0.030 mm (3σ) cpk≥1.00*+/-0.038 mm obtained with rectangular chip placement (high accuracy tuning) under optimal conditions at Fuji.
TRANSPORT HEIGHT
900 to 950 mm
NOZZLE QUANTITY
12
4
1
THROUGHPUT (CPH)
25,000 Parts presence function ON: 24,000
11,000
5,000
PART SIZE (MM)
0402 (01005″) to 7.5 x 7.5
Height: Up to 3.0 mm
1608 (0603″) to 13 x 13
Height: Up to 6.5 mm
1608 (0603″) to 74 x 74 (32 x 100)
Height: Up to 25.4 mm
PLACING ACCURACY
(FIDUCIAL MARK BASED REFERENCING)
+/-0.038 (+/-0.050) mm (3σ) cpk≥1.00*
*+/-0.038 mm obtained with rectangular chip placement (high accuracy tuning) under optimal conditions at Fuji.
+/-0.040 mm (3σ) cpk≥1.00
+/-0.030 mm (3σ) cpk≥1.00
PART PRESENCE CHECK
O
x
O
PARTS SUPPLY
TAPE
O
O
O
PARTS SUPPLY
STICK
x
O
O
PARTS SUPPLY
TRAY
x
O
O
V12 (V-Advance)
V12 (Standard feeder pallet)
H12HS
H08M
H02
H01
OF
NOZZLE QUANTITY
12
12
12
8
2
1
1 (or 1 claw)
THROUGHPUT (CPH)
27,000
26,000
22,500
13,000
5,500
4,200
3,000
PART SIZE (MM)
0402 (01005″) to 5.0 x 5.0 (diagonal 7.6)
(7.5 x 7.5 widh 6 nozzle operation)
Height: Up to 3.0 mm
0402 (01005″) to 5.0 x 5.0 (diagonal 7.6)
(7.5 x 7.5 widh 6 nozzle operation)
Height: Up to 3.0 mm
0402 (01005″) to 5.0 x 5.0 (diagonal 7.6)
(7.5 x 7.5 widh 6 nozzle operation)
Height: Up to 3.0 mm
0603 (0201″) to 45 x 45
Height: Up to 13.0 mm
1608 (0603″) to 74 x 74 (32 x 180)
Height: p to 25.4 mm
1608 (0603″) to 74 x 74 (32 x 180)
Height: p to 25.4 mm
1608 (0603″) to 74 x 74 (32 x 180)
Height: Up to 38.1 mm
PART PRESENCE CHECK
O
O
O
(H12HSQ)
O
(H08MQ)
O
O
x
PARTS SUPPLY
TAPE
O
O
O
O
O
O
O
PARTS SUPPLY
STICK
x
O
O
O
O
O
O
PARTS SUPPLY
TRAY
x
O
O
O
O
O
O